Switch In Time prides itself in having the largest jazz library in the area. You can find jazz music from every prolific composer in the jazz idiom. Some other charts are from composers that are not as well known, but still are worthy of being played by the jazz masters. If you are looking for a specific chart try checking the song library database at the bottom of the page. These are just a few great charts Switch in Time has in the library: In the library organized by title. The letter "V" designated the song as a vocal. We do have different arrangements of songs by the same title in the library. Some are vocals others are by different arrangers.
Composer Niehaus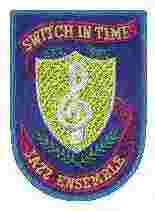 Reference Title
3 BAYOU BELLE
654 CRUISE CONTROL
62 SOME LIKE IT BLUES
653 PENNY WISHES
Composer Nestico
Reference Title
69 SWING STREET
180 HAY BURNER
179 THE GREAT DEBATE
416 LOOK WHAT I FOUND
394 IT'S OH SO NICE
419 CAREFREE
414 LATIN LUSTER
16 DUCK SOUP
294 SATIN 'N GLASS
70 SWITCH IN TIME
476 PRESSURE COOKER
474 CAUGHT SPEEDING
Composer Porter
Reference Title
370 I GET A KICK OUT OF
327 I LOVE PARIS
508 LOVE FOR SALE
305 BEGIN THE BEGUINE
503 IT'S ALL RIGHT WITH
363 ANYTHING GOES
563 WHAT IS THIS THING
18 EASY TO LOVE
329 I'VE GOT YOU UNDER
161 GET OUT OF TOWN
174 NIGHT AND DAY
332 I GET A KICK OUT OF
359 IT'S ALL RIGHT WITH
Composer Basie
Reference Title
54 ONE O'CLOCK JUMP
447 I JUST FOUND OUT
38 JA-DA
427 EVERYDAY I HAVE THE BLUES
426 CAUGHT A TOUCH OF
361 HONEY SUCKLE ROSE
Composer Ellington
Reference Title
641 SOPHISTICATED LADY
385 IT DON'T MEAN A
373 MAIN STEM
517 MOOD INDIGO
381 IN A MELLOW TONE
391 CONCERTO FOR COOTIE
640 IT DON'T MEAN A
464 CARAVAN
274 SATIN DOLL
135 SATIN DOLL
372 C JAM BLUES
13.1 SATIN DOLL
560
SOLITUDE
Composer Miller
Reference Title
366 MOONLIGHT SERENADE
220 PENNSYLVANIA 6-5000
481 IN THE MOOD
185 FOR ONCE IN MY LIFE
Take a look at our complete song library that contains over 700 charts.