Cathy Miller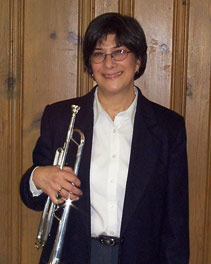 Cathy Miller, trumpeter, began playing in elementary school and continued to play trumpet through junior and senior high school. After more then a thirty year absence from playing music, she joined an ensemble at Dutchess Community College Music School. She also studied private trumpet lessons under the direction of Ambrose Jackson, and jazz improvisation lab band under the direction of Erica Lindsay. She began networking with other musicians this brought her to Switch In Time. She plays 4th trumpet in the band and continues her pursuit now, studying private trumpet lessons at the Music Box in Pouquag NY under the direction of Wayne Castle.
Instrument - B flat Trumpet
Home Town - Carmel, New York
Recommended CD's - Maynard Fergusson - Master of the Stratosphere; Miles Davis - The birth of the cool.